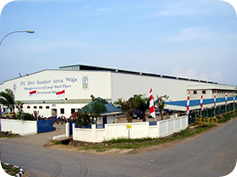 PT. DWI SUMBER ARCA WAJA was established in 1995 to manufacture large diameter steel pipes and structural tubulars. The Company is a multi-national joint-venture consisting of Indonesia, Singapore, Japan and Europe shareholders. The plant is located at Kabil Industrial Estate, Batam in Indonesia which is about 20 km from Singapore. Including it's proximity to the port gives us more benefits.

Customer requirements, industry standards and established procedures from the basis for our Quality Assurance program, which is certified by ISO 9001 & licensed to manufacture API 2B & 5L.

DSAW's manufacturing system ensures full traceability of all products manufactured with test data are regularly analyzed to ensure quality. Test result are provided to Customers on request.

PT. DSAW has established itself in the international market and is now a major supplier of large Diameter Steel Pipes and Structural Tubulars.

Our products have been applied in Oil and Gas Offshore Platform construction, Pipelines and Pipe Marine, Civil and General Construction.